Now Available on

DGS & D

Rate Contract

+91-40-27846175, 27721877

Now Available on DGS & D Rate Contract

+91-40-27846175, 27721877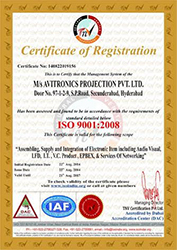 AVITRONICS PROJECTION (P) LTD.,
is an ISO 9001:2008 Company from the famous Business House of Raja Deen Dayal & Sons, a name synonymous with photography in India since 1880. Raja Deen Dayal is regarded as the "Father of Indian Photography". A Trusted name for quality products and assured service.
www.rajadeendayal.org
With a legacy of more than 140 years and 5 generations from Photography to Audio-Visual to Professional Display and Digital Signage, the company has come a long way and always has been in the forefront to give its customers cutting edge technologies and products. And thus started another venture M/s AVITRONICS PROJECTION (P) LTD., which was Incorporated in August' 2000 promoted by its Managing Director, Mr. VINIT JAIN DEEN DAYAL who is a pioneer in this trade having experience of over 2 decades having introduced many brands, products and technologies in Photography products, Audio-Visual Equipments and is responsible to introduce Digital Sigange & Professional Displays in AP & Telangana.
www.avitronics.in
AVITRONICS
are the Regional Distributors & Premium/Preferred Partners for many AV & Digital Signage products as follows :
Products Profile
Regional Distributor : Samsung Professional Display/LFD/Digital Signage.
Regional Distributor : for ATEN Intergration products.
Regional Distributors : LG LED Projectors – Most Eco Friendly.
Authorized Distributors : LCD/DLP Projectors from NEC, Panasonic, Hitachi, Casio, Epson, Sony, Projection Design, Barco
LED Commercial Displays from Samsung, LG, Panasonic, NEC, Philips, Hyundai.
Professional Audio – Bosch, Bose, Ahuja, etc.
Home Theatres – Onkyo, JBL, Harman, etc.
Interactive White Boards – Hitachi Star Boards, Smart Boards, E Guru, AT, Julong
Interactive Panels & Devices – Hitachi, AT, Pen&Free
Visualizers & Document Cameras – Wanin, Lumens, Megapower, Elmo, Aver Vision.
Video/Audio Conferencing : Polycom, Peoplelink, Lifesize.
AV Integration products - Extron, Aten, Crestron, AXM, Kramer, etc.
Screens - Braun, Grandview, Liberty, Prolite, Avitronics, Dalite, Draper.
Accessories : Cable cubbies, Pop-up boxes, cables, switchers, splitters, Amplifiers, PA systems, Podiums, Lecterns, connectors, presenters, etc all brands of OEM projector lamps.
Lamps : Lamps for all OEM of projectors
Vision
: AVITRONICS vision is to reach multifold increase in business in next five years through introducing the sale of start-of-art products and technologies with value additions, fulfilling the ever increasing demands of Retail, Education, Hospitality, Corporate and IT companies, keeping the commitment of providing after-sales service support and giving its customers value for money and full satisfaction as the paramount motive.
Clients
: AVITRONICS has a very impressive clientele list consisting of top most Retail outlets, Hotels & Hospitals, Software & IT companies, Major Corporates, Government Organizations, Defense, Railways and Educational institutions, etc.
AVITRONICS - "Your Partner in Presentation"
Product Range