Now Available on

DGS & D

Rate Contract

+91-40-27846175, 27721877

Now Available on DGS & D Rate Contract

+91-40-27846175, 27721877
DUO
Wireless Digital Pen mouse

DUO is the leading brand of wireless digital pen mouse that provides perfect tablet and mouse functions on usual laptops and computers at the most economical price range. DUO is enabling solution to make all Pcs become TABLET computers.


Technology Principle

Using technology tracking down pen position by calculating speed gap between ultrasonic waves and infrared rays.
Advantage
The most economical price range among current tablet enabling technologies
Price-indifferent to increasing monitor size, thus suitable for large size
Fine writing system using absolute coordination in calculating pen location
Support virtual space usage by Hovering feature.
Positioning of Digital Pen enabling Technologies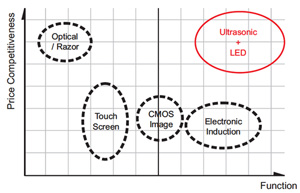 Technology for combining Ultrasonic waves and infrared rays is the most cmpetitivbe solution applicable for enabling non-table PC to have full tablet functions
DUO
pen mouse applies ultrasonic waves and infrared rays in order to actualise tablet functions.
DUO's
technologies are protected under national and international patents and patents-pending.
DUO Advantages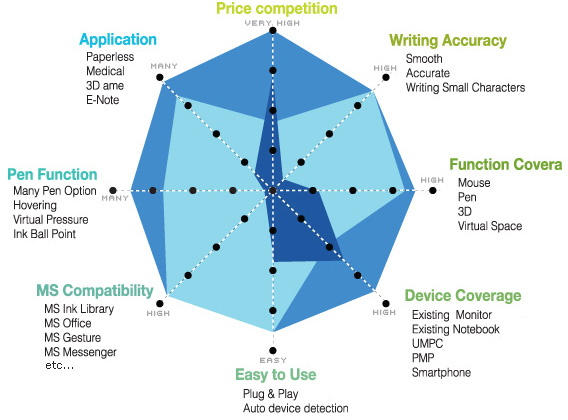 | | |
| --- | --- |
| | Duo with low cost and high value |
| | Duo in synergy with various applications |
| | Duo with mouse & Tablet |
| | Duo of Aero & Touch |
| | Duo from soft & delicate writing |
DUO Feature
| | |
| --- | --- |
| | Fine writing and drawing on screen and virtual space : maintain constant writing speed by tracking down pen location 80 times per second |
| | Aero pen touch ; Able to use mouse and pen fucntions on screen or separate virtual space |
| | Virtual writing pressure support : enabling pen-brush typed writing and drawing by patented technology of transforming speed into pressure |
| | Microsoft Ink library Support : enabling smooth writing and drawings by fully utilizing microsoft ink Library |
| | Word recognition : Hand wirting characters may be saved either as cursive letterings or ASCII charactrs. |
| | Gesture recognition : able to move and scroll screen to right, left, up and drawn according to pen's gesture |
| | Note-taking : save notes directly into computer as users write on notebooks for later editing and using |
| | Microsoft Windows Log Vertification : 100% support for Microsoft Windows Vista pen related functions by "Plug-n Play" |
DUO Application Examples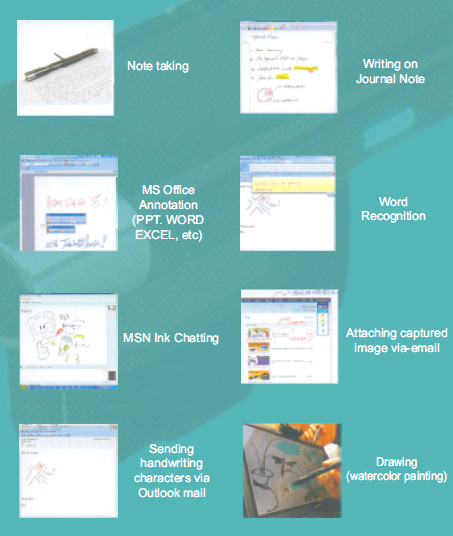 DUO Pen Supporting Software
| | | | |
| --- | --- | --- | --- |
| | Microsoft Office (Word, PowerPoint, Excel, Outlook, Visio) | | Adobe PDF Anotator |
| | Microsoft MSN Ink Chatting | | Adobe Photoshop |
| | Microsoft Sticky Notes | | Adobe Illustrator |
| | Microsoft Journal Notes | | Nate-On Messenger |
| | Microsoft Ink Desktop | | DUO Office Annotator for XP, Vista Home Basic |
| | Microsoft Capture Tool | | DUO Ink Desktop for XP, Vista Home Basic |
| | Microsoft Paint | | Various other user applications and gaming using mouse |
| | Microsoft OneNote | | |
DUO ARGOS for Mobile
| | |
| --- | --- |
| | MiEmbedded / Built-in solution for laptops, monitors and mobile phones |
| | All-in-one solution consists of one chip and sensors |
| | Product difference and competitiveness by provinding perfect tablet fuctions |
| | Lowest cost solution |
| | Equivalent functions as DUO product |
DUO Pen
Class
PMPB-01

Ink Ballpoint Pen
Available (Q4)
Battery Type
Lr41 Cell
Battery Type
Lr41 Cell
Operating Power
4.5V
Battey operating time
20 Hr
Size
L/Pi:130/6.5mm
* Subject to change without notification

| | |
| --- | --- |
| | Mouse combined with digital pen |
| | Protect screen with soft pen tip |
| | Right and left button of mouse function |
| | Easy transformation into Automatic sleep mode and wake fuctnion |
| | Double features as ink pen (require exclusive pen tip( & digital pen tip |
| | Aero touch function |
| | 3 Battery Models : rechargeable battery, Cell battery and AAA type battery |
DUO for laptop
| | |
| --- | --- |
| | Laptop-only |
| | Simple and stylish design with easy portability |
| | Screen support up to maximum 15.4" |
| | Easy to attach using magnet |
| | Hassel-free one step installing |
| | One step focus calibration using automatic LCD-pixel detection |
| | Applicable to attach on 3 sides of laptop (Top, Left, Right) |
| | Support stationary clip for Note-taking function |

Sensor Type / Qty
MEMS / 2
Virtual writing pressure
Support
Infrared Type / Qty
IRDA / 1
Air touch
Support
Resolution
600 DPI
Virtual working space
A4~A5
Note Taking
Support
Operating Powder
DC 5V (USB
WorkSpace
15.4"
Operating Temperature
10*C~45*C
Connecting Type
USB
Size
H/W/D:
8.5/77/58mm